NEWS
Subscribe to posts
JULY 13, 2015 5:00am PT by Lacey Rose
http://www.hollywoodreporter.com
                               Ryan Seacrest                                                                                                                                                                                 AP Images/Invision
The entertainment mogul has inked a new, expanded deal with iHeartMedia. Seacrest will remain a key adviser for the company, continuing to work closely with CEO Bob Pittman and president Rich Bressler, and as a top personality across all of iHeartRadio's platforms. Seacrest also will develop new ways to connect advertisers and consumers, will provide input into all of the company's major events and initiatives and host tentpole events like the iHeartRadio Music Festival and iHeartRadio Music Awards.
As part of his new three-year pact, Seacrest will continue hosting and producing L.A.'s top-rated morning drive-time show for iHeart's 102.7 KISS-FM, as well as the nationally syndicated On Air With Ryan Seacrest and American Top 40 With Ryan Seacrest. Though a Seacrest rep declined to discuss financial terms of the deal, his last pact was said to pay him $25 million; a new, expanded one likely amounts to more.
"In the new iHeartMedia, where we connect our fans to their favorite programming and music — and advertisers to consumers — innovation and creativity is more important than ever. Ryan is unique, standing alone in today's world as someone who crosses all media as an expert on both the talent and business sides, and we are fortunate to have him as a member of our core team," Pittman noted in a statement announcing the news Monday. 
Added Seacrest: "I've been active in everything from broadcast radio to digital, from television to social media and more — and the wonderful thing about my extended relationship with iHeartMedia is that it ties everything together. I'm grateful for the support of Bob and Rich. Their continued confidence fuels my creative spirit and inspires me to do a job I've loved since I was 15 years old."
The news comes as Seacrest is set to expand his TV presence as well. On July 21, his latest unscripted, wish-fulfillment series, Knock Knock Live, will bow on Fox. He'll be back on the same network this spring for the final season of long-running singing competition American Idol. He'll also continue as the frontman for ABC Rockin' New Years Eve and is likely to be part of NBC's Olympics coverage in Rio. Seacrest's contract with E!, for which he hosts the network's major red carpet shows, runs through September's Emmy telecast, though it wouldn't be surprising if that role continues as well.
Earlier this spring, Seacrest inked a major deal with Endemol for the unscripted division of his eponymous production company, which produces the Kardashian franchise as well as recently renewed Shahs of Sunset and ABC Family's transgender docuseries Becoming Us. On the scripted side, where Ryan Seacrest Productions has a deal with CBS TV Studios, the company is at work on NBC's Shades of Blue starring Jennifer Lopez.
Off camera, Seacrest has long-standing partnerships with Coca-Cola and Ford, and recently launched a tailored men's clothing and accessories line, Ryan Seacrest Distinction, sold exclusively at Macy's. On the entrepreneurial front, Seacrest has investments in media and entertainment companies including Civic Entertainment Group, Pinterest and FlightCar.
added: 9 Jun 2015 // by: Music-News.com Newsdesk
Muse have revealed their brand new video for 'Mercy'.
'Mercy' appears on the band's seventh studio album, Drones, which was release yesterday by Warner Bros. Records. 
According to Bellamy the record 'explores the journey of a human: from abandonment and loss of hope, to indoctrination by the system to be a human drone, to eventual defection from the oppressors."
Muse will headline Download Festival this Saturday June 13th. 
www.muse.mu
Annual TV music contest, won by Sweden, averages 6.6 million viewers on Saturday, the lowest ratings for five years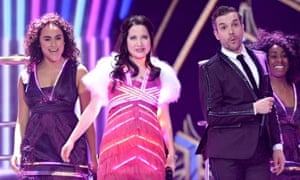 The UK's entry to the 2015 Eurovision Song Contest, Electro Velvet, finished in 24th place with five points. Photograph: Splash News/Corbis
Another humiliation for the UK entry at Eurovision prompted talk of a Brexit but BBC1 viewers may already have voted with their remote controls, this year's jamboree sinking to a five-year ratings low, more than 2 million down on last year.
The Eurovision Song Contest, in which the UK's Electro Velvet finished 24th with just five points, had an average of 6.6 million viewers from 8pm on Saturday, a 35.8% share of the audience.
Eurovision 2015: is it time for Brexit?
Stuart Heritage
Stuart Heritage  Read more
It was the lowest BBC1 audience for the show since 5.5 million viewers watched Josh Dubovie finish last in 2010 (although he did manage double Electro Velvet's five points).
It was also a quarter down on the 8.8 million (41.9%) who watched bearded drag act Conchita Wurst win in 2014, when the UK's Molly Smitten-Downes secured 17th place with 40 points.
Electro Velvet's entry for the Eurovision Song Contest
The five-year low came despite the publicity around the event's 60th anniversary, which prompted the unusual inclusion of an entry from Australia. This year's contest was won by Sweden's Mans Zelmerlow.
The Eurovision Song Contest: 10 of the best
Eurovision's highest audience of late was in 2011 when boyband Blue flew the flag for the UK. Finishing a respectable 11th with 100 points, it was watched by 9.5 million viewers, a 40.4% share.
Saturday's show lost out to Simon Cowell's Britain's Got Talent on ITV, which was watched by 7.5 million viewers (34.2%), also from 8pm. This was also down on last year - by nearly as much as Eurovision - from 9.4 million (41.1%) in 2014.
Nuls points? Eurovision overnight ratings on BBC1 since 2010
2015 – 6.6m, 35.8% 
2014 – 8.8m, 41.9%
2013 – 7.7m, 35.3% 
2012 – 7.5m, 36.2%
2011 – 9.5m, 40.4%
2010 – 5.5m, 24%
By Keith Caulfield | May 20, 2015 11:30 AM EDT
Anna Kendrick and Rebel Wilson in a scene from "Pitch Perfect 2." 
Courtesy Photo
The Pitch Perfect 2 soundtrack sings out at No. 1 on the Billboard 200 albums chart, as the set debuts atop the list. The album, which was released on May 12 through Universal Music Enterprises, moved 107,000 units in the week ending May 17, according to Nielsen Music.
The Billboard 200 chart ranks the most popular albums of the week based on multi-metric consumption, which includes traditional album sales, track equivalent albums (TEA) and streaming equivalent albums (SEA).
Pitch Perfect 2 is the third soundtrack to reach No. 1 in 2015, following the companion albums from Fox TV's Empire series and the theatrical film Furious 7. That's the most No. 1 soundtracks in a calendar year since 2010, when three Glee albums topped the list.
Of Pitch Perfect 2's launch, traditional album sales comprised 92,000 units, and the set also debuts at No. 1 on the Top Album Sales chart.
The Pitch Perfect 2 film and album follows the first movie and its corresponding soundtrack, which were released in 2012. The new film was released in theaters on May 15.
Pitch Perfect 2 earned $70.3 million at the U.S. and Canada box office in its debut weekend (May 15-17), according to Box Office Mojo -- out-grossing the entire domestic run of the first Pitch Perfect ($65 million). The first film's soundtrack peaked at No. 3 on the Billboard 200, and has sold 1.2 million copies.
The Pitch Perfect soundtrack spawned the fluke hit single "Cups," performed by the star of both films, Anna Kendrick. The tune peaked at No. 6 on the Billboard Hot 100 chart and has sold 2.1 million downloads.
Last week's No. 1 album, Mumford & Sons' Wilder Mind, slips to No. 2 in its second chart week with 58,000 units (down 77 percent). The Fifty Shades of Grey soundtrack scoots 6-3 with 48,000 units (down 8 percent).
David Guetta's Listen album zooms into the top 10, jumping from No. 30 to No. 4 -- a new peak for the album and artist -- with 43,000 units (up 198 percent), as the album was deeply discounted to 99 cents in the Google Play store during the tracking week. Listen sold 29,000 downloads (up 2,136 percent), re-entering at No. 2 on the Digital Albums chart.
The album initially debuted and peaked at No. 22 on the Billboard 200 dated Dec. 13, 2014. Guetta's previous chart high came when his Nothing But the Beat album debuted and peaked at No. 5 on Sept. 7, 2011.
The Furious 7 soundtrack climbs 7-5 with 41,000 units (down 12 percent).
Three soundtracks -- Pitch Perfect 2, Fifty Shades of Grey and Furious 7 -- are in the top five. That's the most soundtracks in the top five in a single week since the Sept. 8, 2007-dated chart, when High School Musical 2 was No. 1, Hannah Montana 2/Meet Miley Cyrus was No. 3, and Hairspray was No. 4.
Rock band Incubus is the second and final debut in the latest top 10, as its new EP Trust Fall (Side A) bows at No. 6 with 40,000 units. It's the sixth top 10 album for the group, which last visited the top 10 in 2011 with If Not Now, When? It debuted and peaked at No. 2, selling 80,000 copies in its first week.
Rounding out the top 10… Zac Brown Band's former No. 1, Jekyll + Hyde, slips 5-7 with 39,000 units (down 41 percent). Josh Groban's Stages descends 2-8 with 38,000 (down 62 percent). Taylor Swift's 1989 holds steady at No. 9 with 37,000 (and a 3 percent gain). Sam Smith's In the Lonely Hour falls 8-10 with 36,000 (down 8 percent).
BY BRIAN ANTHONY HERNANDEZ - Mashable
Con Bro Chill's "What I Like" music video could be systematic, hydromatic, ultramatic with its Grease-inspired vibe.
"The video accidentally turned into a John Travolta/Kevin Bacon tribute video," the foursome's frontman Con (a.k.a. Connor Martin) told Mashable. "Nonetheless, we just went with it and danced our faces off."
Midway through the video, the environment shifts from 1950s Grease era to 1970s disco era, followed by a "Neon future" setup.
Compare their effort to Travolta's during "Greased Lighting," below. We'll give Con Bro Chill an "A" for effort and execution.
added: 11 May 2015 // by: Music-News.com Newsdesk 
American Idol has been cancelled.
The TV talent show has been hugely popular since it first hit screens in 2002, launching the careers of stars including Kelly Clarkson, Jordin Sparks and Carrie Underwood.
Fox has now confirmed that the upcoming 15th season of the programme - which will air in January - will be the last. The current crop of judges, Jennifer Lopez, Keith Urban and Harry Connick Jr., will remain in place for the final showing, with host Ryan Seacrest also staying on.
There have also been hints that something fresh could be in store for the season, which will apparently honour its previous years. At the moment there is no word on exactly what that means.
At one point American Idol was the most popular show on TV, winning 41 million viewers during the last half hour of the premiere in 2006. 36 million viewers tuned in to see Jordan win that series' final.
Simon Cowell was one of the judges when American Idol launched, but he left in 2010 to bring The X Factor Stateside. After his departure there was a revolving door of judges, with the likes of Ellen DeGeneres, Steven Tyler, Mariah Carey and Nicki Minaj all doing the honours at one point.
This year the run saw a low point of 11.6 million people switching on. Although it sounds like a lot, the programme is expensive as there are judges' salaries to consider, as well as booking big name talent to perform at the live shows. On top of that there are now many similar programmes being broadcast, such as Christina Aguilera and Adam Levine's The Voice.
American Idol isn't the only casualty of the new season's TV schedules. Last week it was confirmed that The Mindy Project had been culled, and it's also curtains for Kevin Bacon's programme The Following.
added: 23 Apr 2015 // by: Music-News.com Newsdesk 
Marcus Mumford thinks the name of his band is "a b**lache".
The 28-year-old is the lead singer of Mumford & Sons. The group rose to prominence in 2009 only two years after forming, and with hindsight, Marcus wishes they had chosen a different moniker.
"I definitely regret the band name,' he admitted to NME. 'If I'd known that it was going to go this way I would have wanted to call it anything other than my last name. It's a b**l ache. We thought about changing it, but it's a bit late now.'
The band, which also consists of Ben Lovett, Winston Marshall and Ted Dwane have released two hugely successful albums, with their third, Wilder Mind, about to drop. The guys still can't believe they get to perform around the world and while there are elements of their success that aren't as enjoyable, Marcus added that they have had to accept that some things go with the territory.
"It all happened really fast. We have to get comfortable with that, and not say: 'F**k it, we want to be a tiny pub band'," he added. "It's an opportunity to make more music, and as long as it's about that I'm cool with it all. If we were big for any other reason then I'd be questioning it, but we're not male models, I can tell you that.'
But despite their success, the band is aware that they're not everyone's cup of tea. Marcus was on the receiving end of a blunt criticism in a bar in New York recently, but instead of being offended, he was quite pleased.
"'I f**king hate your band,'" he recalled the man saying. "I was like, 'you're a legend, mate. Have a good night!' I quite like that. I don't really want everybody to like our music. That would be really boring. It's about taste isn't it?"
added: 21 Apr 2015 // by: Music-News.com Newsdesk
Sam Smith has been nominated for a prestigious Ivor Novello Award.
The 22-year-old is up for the award with his song Stay with Me in the most performed work category. He faces competition from Clean Bandit for their track Rather Be and George Ezra with Budapest.
The annual awards are now in their 60th year and celebrate songwriting and composing. The gongs are voted for by writers and this year they will be presented at a ceremony in London, UK, on May 21.
The announcement tops off a recent stint of awards and acclaim for Sam after he scooped four Grammys in February, including song of the year for Stay with Me and pop record of the year for In the Lonely Hour. He also received two Brits and the track is nominated for four Billboard Music Awards.
Stay with Me hasn't been without some hurdles though as in January, veteran US songwriter Tom Petty was given a writing credit and awarded royalties, because of the similarities to his 1989 track I Won't Back Down.
Sam "amicably" agreed that Tom and his collaborator Jeff Lynne would be credited as co-writers of the song.
But, under the rules set by BASCA (the British Society of Songwriters, Composers and Authors), the pair would not be eligible to share an Ivor Novello award if Sam was to win, as they received less than 15 per cent of the writing credit.
While Sam was happy to give the credit, he admitted at the time that he had never even heard I Won't Back Down.
'It's a very, very regular thing that happens, and I didn't realise that. And I'm still learning about all this stuff," he told CBC News Now. "I just go into the studio, and Stay with Me was me just writing a song about me sleeping with too many people, and wishing they would stay over. That was my mindset when I was writing that song, and I was very shocked to find out that the melody was similar, because again, I am 22 and I've never heard the song."
Tim Jonze Tuesday 14 April 2015 14.00 EDT theGuardian.com
The festival has announced a list of 75 artists set to play, including performances from Mary J Blige, Florence and the Machine and Motörhead. But there's still no news on who the Sunday-night headliner will be
PHOTOGRAPH BY PAOLA KUDACKI
Glastonbury festival is known as a place for gaining new experiences, and not just for fans. Mary J Blige and Motörhead will be among the artists making their debut appearances at this year's event, along with newer names such as Sleaford Mods and Catfish and the Bottlemen. These acts help make up a list of 75 artists announced by the festival on 14 April, which also includes returning stars such as Alt-J, Pharrell Williams, Florence and the Machine and Patti Smith, who will likely be playing tracks from her debut album Horses, which celebrates its 40th anniversary this year.
It will be Florence Welch's first live appearance at the festival since 2010, when she played a barnstorming set on the Other stage that included a cover of Fleetwood Mac's The Chain. As for the debut artists, Blige's performance follows the R&B singer's 2014 album The London Sessions, which was heavily influenced by the current wave of UK dance artists. Hard rockers Motörhead follow in the footsteps of Metallica, who last year became the first heavy metal band to headline the festival. Although Pharrell Williams has played Glastonbury before as part of his group NERD, this will be the first time he has performed as a solo artist. His booking comes off the back of a career renaissance – he played a key part in a trio of recent global smash hits: Happy, Blurred Lines and Get Lucky.
Other notable names on the list include a collaborative performance between Franz Ferdinand and Sparks (listed as FFS), a set by the Moody Blues – now into their sixth decade as a band – and the Mothership Returns, which will feature funk legend George Clinton, Parliament, Funkadelic and the Family Stone.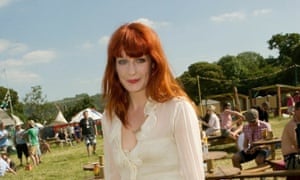 Florence Welch, backstage at Glastonbury in 2010. Photograph: Samir Hussein/Getty Images
The furore over Kanye West's headline performance, in which one Glastonbury-goer set up a petition to have him struck off the bill, thankfully hasn't persuaded the festival to avoid booking hip-hop artists – US duo Run the Jewels and Azealia Banks both feature. Elsewhere, the list features names such as soulful southern rockers Alabama Shakes, recent Brit winner Paloma Faith, and British dance artists such as the Chemical Brothers, Rudimental and Clean Bandit, who played to an overflowing John Peel stage tent in 2014. Mercury prize-winners Young Fathers, who return to the festival after playing last year, said: "We hope the sun shines on our arrival and the moon shines on the audience so we can see their loving faces and so it can guide us when we depart, to the airport and another festival, somewhere else."
Jungle, another new band returning after a triumphant 2014 performance, said: "Glastonbury has always been one of our favourite festivals and we cannot wait to play this year. Playing the Other stage is something of a dream come true – it's going to be amazing looking out on Friday afternoon and seeing so many faces – nerve racking but exhilarating."
Lionel Richie had previously been announced to play the prestigious Sunday afternoon Pyramid stage slot, telling the Guardian that it was "one of the most iconic festivals in the world". Despite the host of new names announced, there's still no news on who'll be headlining the Sunday night after Foo Fighters and Kanye West top the bill on Friday and Saturday respectively. Australian rockers AC/DC have been tipped to play that slot, while rumours persist that it could be Prince or even Kate Bush, who returned to the live scene in 2014 after a 35-year break.
List of artists confirmed for Glastonbury 2015 – so far
Foo Fighters

Kanye West

Special Guests

Florence and the Machine

Pharrell Williams

Alt-J

Lionel Richie

Motörhead

Mary J Blige

Alabama Shakes

Paloma Faith

Patti Smith

The Chemical Brothers

Rudimental

Deadmau5

Jamie T

Ben Howard

Hot Chip

The Mothership Returns – George Clinton, Parliament, Funkadelic and the Family Stone

Flying Lotus

FKA twigs

Caribou

Roy Ayers

Run the Jewels

Mark Ronson

Super Furry Animals

Belle and Sebastian

The Vaccines

Ryan Adams

Chronixx

Future Islands

George Ezra

The Waterboys

The Moody Blues

Suede

FFS (Franz Ferdinand and Sparks)

The Maccabees

Enter Shikari

Modestep

Clean Bandit

Jessie Ware

Courtney Barnett

Jon Hopkins

Spiritualized

Jamie xx

Mavis Staples

Hozier

Father John Misty

The Fall

Todd Terje

Gregory Porter

Jungle

Sleaford Mods

Catfish and the Bottlemen

Azealia Banks

Young Fathers

Charli XCX

Kasai Allstars

Sharon Van Etten

Kate Tempest

Goat

Wolf Alice

Perfume Genius

Fat White Family

Years and Years

La Roux

Death Cab for Cutie

Lianne La Havas

Death from Above 1979

Circa Waves

Peace

The Pop Group

Ibeyi

Ella Eyre

Rae Morris
• This article was amended on 14 April. It was previously stated that Patti Smith was making her debut at Glastonbury, however she makes her return to the festival having performed in 1999.
From Schumer's self-pleasure shout-outs to dueling De Niros, here are the highlights and lowlights of last night's show
BY PHOEBE REILLY April 13, 2015 Rolling Stone Magazine
(Allen Berezovsky/WireImage/Getty)
If you weren't annoyed to be missing Game of Thrones last night, then chances are you were the target audience for the 2015 MTV Movie Awards, which bravely aired against the HBO series premiere. Fortunately, the hilarious Amy Schumer made the sacrifice worthwhile and took to the stage swinging — or, more accurately, misfiring an arrow. (So much for the hours of archery lessons.) But the gag went on, and so did the show. Here were the best and worst moments from the pop-celebrity, blockbuster-promoting, popcorn-statuette extravaganza that didn't have anything to do with some seriously P.O.'ed dragons.
Best: Amy Schumer's Monologue
Kevork Djansezian/MTV1415/Getty
Opening with a Boyhood gag in which the Comedy Central star lies on the grass and muses that she's statistically likely to get HPV, Schumer immediately set the tone: This gig was going to be her brand of comedy (irreverent, feminist, and very, very funny). After running through some similar plot perversions of Divergent, The Fault in Our Stars, and, best of all, Whiplash in the opening film montage, the comedienne took a few clever shots at the network during her monologue. The winners don't have to worry about being cued off the stage, she joked, because MTV "refuses to play music," and that the best movie is decided on "by the same people who keep Catfish and Teen Mom on the air." It's always refreshing when the hosts don't sublimate their humor for the sake of getting asked back. Besides, any award show that wouldn't want Schumer to host should just hang on to those trophies.
Worst: Shailene Woodley's Ad-Libbed Trailblazer Award Speech
Allen Berezovsky/WireImage/Getty
Woodley kicked things off with such a warm and sincere acceptance for her Best Actress win (the first of many), that it was surprising to see her stumble here. She vaguely quoted Emma Stone, who won the same award three years ago, and then got a little tongue-tied when trying to sort out something to the effect of being "pillars" in one's community. It was a word she repeated three more times before concluding with a corny joke that she'd road-tested on the red carpet about not being allowed to say "blaze on." (Is she watching the same show as the rest of us?!) Anyway, hey, everybody gets nervous, and it was clear the young actress had something meaningful she wanted to say. It just would have been nice for Woodley to share more articulate, perhaps slightly more prepared thoughts up at the podium.
Best: Robert Downey Jr.'s Speech for Generation Award
Gabriel Olsen/Getty
Leave it to Downey Jr. to show up the rookies. If we're to imagine RDJ's internal stage directions, it would sound like: Convey a sense humility that is both effortless and genuine, with just the right amount of derision. Like when the 50-year-old Iron Man star joked, in reference to the show's set design, that he's been waiting 10 years to "emerge from a massive, trippy cat head to receive the recognition I've so desired." As his Avengers costars Mark Ruffalo, Scarlett Johansson, Jeremy Renner, Chris Evans, and Chris Hemsworth kneeled before him, Downey Jr. admitted that in the 34 years since MTV's birth, he has "squandered, resisted, surrendered, repented, [and] labored." No doubt some people in the audience (and elsewhere) will want to look to this speech in a few years to see how comebacks are done. "Keep your nose clean," he added, without pausing for the laughs.
Worst: Promo Overload
Kevork Djansezian/MTV1415/Getty
Clearly, as The Hunger Games wind down and the memory of Twilight fades like a far distant memory, the awards are lacking for the big clip that will satisfy just one rabid fan base — so instead the show is appealing to all of them. Robert Downey Jr. actually had to boil his career down to a promo for Avengers: Age of Ultron by wrapping up his lifetime achievement award speech with a scene from the movie. MTV has a new series called Scream that no one would have been able to remain unaware of, and Dwayne Johnson presented the last award of the night against a flaming San Andreas set piece. Is shameless self-promotion the only way to secure the stars' attendance these days? Either way, MTV will not get Anna Kendrick (Pitch Perfect 2) at these shows for anything.
Best: All the Awesome Nods to Female Sexuality
Gabriel Olsen/Getty
It didn't look like it could get any more ribald than Amy Schumer saying that at least two of her fingers disappear every time she watches Magic Mike — but it did. It really did. The host later referred to herself as a "celebrity leak" (think about it) before devoting an entire skit to friends bumping into each other at the movie theater — where they have come to masturbate, aided by washing machines and gourds from Trader Joe's. Elsewhere, J. Lo coaxed a little twerk from the always-game Channing Tatum. Is it possible that an entire awards show passed without a single woman being degraded? For once, the tables were turned for a whole evening.