By Elizabeth Kwiatkowski, 05/09/2014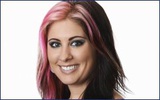 American Idol's thirteenth season has lost another contestant, determining the competition's Top 3 finalists. 
Jessica Meuse, a 23-year-old from Slapout, AL, became the tenth finalist sent home from American Idol's thirteenth season after she received the fewest home viewer votes cast following Wednesday night's Top 4 performance show, which featured each contestant singing three songs about love -- a breakup, a makeup and a dedication song. 
"I definitely stand out in Slapout. I've always said, 'I'm either going to be a successful musician or a broke one. Either way, I'm going to do what I love and I'm going to make it.' I'm ready to be the singer/songwriter/artist that I'm supposed to be," Jessica said during a video montage that played following her ouster. 
Jessica tried her best to get through her final performance of "Blue Eyed Lie." 
The rocker had landed in the week's bottom two vote-getters alongside Alex Preston, a 20-year-old from Mont 
Vernon, NH. 
During Wednesday night's performance show, Jessica first took the stage with "Since U Been Gone" by Kelly Clarkson. The performance didn't really please American Idol judges Jennifer Lopez, Keith Urban and Harry Connick Jr. 
Jennifer said she could tell Jessica felt the song and her attitude was right but she still didn't think it was the best song for her. 
"It didn't compliment your vocal style, your vocal ability. It felt a little low in the beginning for you and there were moments when it was just off a little bit," Jennifer noted. 
"I'm glad you have two more songs because I know you can do better than that. That was not your best performance," Harry explained. "Our thoughts are weightless. We can't see inside your head. So find a way -- experiment... you've come so far. Push [the performance] even more. Show us how you feel." 
Keith told Jessica he wanted to see her pull out all the stops when performing although increased confidence would help her naturally with that. 
Jessica's second song was "So What" by P!nk, and the judges didn't seem to think it was much of an improvement on her first song selection. 
"I think you are an amazing talent. Those two songs that you sang tonight were not the best songs for you. I've heard you do better and I'm really pulling for you for this third song," Harry said. 
"I totally agree with [Harry]," Keith noted. "A song that doesn't suit you has no reflection on your talent, Jess. You have an incredible voice and when you find the right song, you can tell that story like nobody else, and that's the song you've got to find, babe." 
"I'm hoping on the third song too," Jennifer added. "[That song] wasn't right for you." 
However, Jessica really redeemed herself with her third song, "You and I" by Lady Gaga. The judges were very impressed with how she managed to turn things around after receiving fairly unflattering feedback earlier in the night. 
"Jess, that is the perfect song for you! It really is -- vocally, melodically... that's you. I heard you... Killer," Keith told her. 
"I agree. It was perfect for you. That's what we've been waiting for all night," Jennifer explained. "It really highlighted all the great qualities and strengths in your voice, and I'm just glad you did that song." 
"What did the girl from Slapout do? She came out swinging on a song that was perfectly suited for you and you killed it," Harry said. "It's been a rocky night and you came out and said, 'Look, they're going to remember me for this song tonight!'" 
In addition to Alex, Idol's two other remaining finalists are Jena Irene and Caleb Johnson. All three contestants will now be traveling to their hometowns for a warm greeting from all their supporters and fans. 
(Photo credit Fox)
(Source Reality TV World)