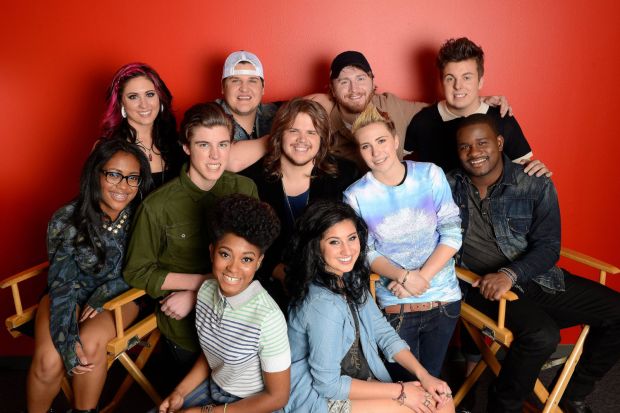 AMERICAN IDOL XIII: Top 11: L-R Back Row: Jessica Meuse, Dexter Roberts, Ben Briley, Alex Preston, L-R Middle Row: Malaya Watson, Sam Woolf, Caleb Johnson, MK Nobillette, C.J. Harris, L-R Front Row: Majesty Rose and Jena Irene.
March 12, 2014 9:23 pm  •  Bruce R. Miller(0) Comments
There's a new vibe at 'Idol,' Keith Urban says
The 12th season of "American Idol" – the one that featured Nicki Minaj and Mariah Carey – wasn't as painful as it may have looked, Keith Urban says. Read more
Harry Connick Jr. made a big deal about this year's "American Idol" contestants Wednesday night. He raved about their diversity, their quality, their originality.
But, really, this may be the weakest crowd yet. There's no Adam Lambert, knocking you out from Week 1. There's no Fantasia, surprising with her raw emotions. There's no Phillip Phillips wowing with his growth.
Instead, we've got a group of so-so karaoke singers who don't have the killer looks to cover the weak notes.
Someone like MK Nobilette has an interesting story and an fascinating sound. But she's not, as Jennifer Lopez says, another k.d. lang. She's just a good singer who isn't cut from the same mold as most who audition.
Caleb Johnson is different, too, because he's not a slim fit, ready-for-Ralph Lauren model. But he can sing. Personality? It could be there, but it hasn't emerged yet.
Conversely, Malaya Watson overflows with personality. But it often overshadows her singing.
Toss in several nondescript contenders and you see where this is headed: Six weeks of lackluster herd culling before "Idol" gets down to business.
Wednesday, the theme was "songs from the cinema." Good, right? Except many of the 11 finalists did pop standards that were added to films after they had had a good run on the charts.
Majesty Rose played to the audience, singing "Let it Go" from "Frozen," which was a brilliant move. Unfortunately, she couldn't hit some of the notes. Jena Irene did "Decode" from "Twilight" and it sounded better than the original. And Johnson hit the night's home run with Adele's "Skyfall."
The rest? Meh.
Sure, Watson belted "I Am Changing" from "Dreamgirls" but it wasn't half as good as some of the "Dreamgirls" covers we've heard in the past. (Tamyra Gray, take a bow.)
Ben Briley, who did "Bennie and the Jets," made the weakest impression and could be the one to go home.
Dexter Roberts, C.J. Harris and Sam Woolf may be vulnerable, too.
But Jessica Meuse, who's sounding like Wynonna at this point, Alex Preston (who did "Falling Slowly") and Nobilette, should be safe.
Briley's the marked man.
The songs were done on a set that looked suspiciously like one for "Dancing with the Stars." The judges' comments were fairly predictable, considering the off-key performances that folks heard at home.
Sure, it's early in the season. But the actors at ABC won't have much to worry about if the contest continues in the same vein. Actors on "Modern Family" and "The Middle" are much more entertaining than anyone on this season's "Idol."