Annual TV music contest, won by Sweden, averages 6.6 million viewers on Saturday, the lowest ratings for five years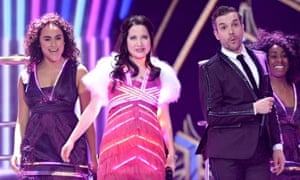 The UK's entry to the 2015 Eurovision Song Contest, Electro Velvet, finished in 24th place with five points. Photograph: Splash News/Corbis
Another humiliation for the UK entry at Eurovision prompted talk of a Brexit but BBC1 viewers may already have voted with their remote controls, this year's jamboree sinking to a five-year ratings low, more than 2 million down on last year.
The Eurovision Song Contest, in which the UK's Electro Velvet finished 24th with just five points, had an average of 6.6 million viewers from 8pm on Saturday, a 35.8% share of the audience.
Eurovision 2015: is it time for Brexit?
Stuart Heritage
Stuart Heritage  Read more
It was the lowest BBC1 audience for the show since 5.5 million viewers watched Josh Dubovie finish last in 2010 (although he did manage double Electro Velvet's five points).
It was also a quarter down on the 8.8 million (41.9%) who watched bearded drag act Conchita Wurst win in 2014, when the UK's Molly Smitten-Downes secured 17th place with 40 points.
Electro Velvet's entry for the Eurovision Song Contest
The five-year low came despite the publicity around the event's 60th anniversary, which prompted the unusual inclusion of an entry from Australia. This year's contest was won by Sweden's Mans Zelmerlow.
The Eurovision Song Contest: 10 of the best
Eurovision's highest audience of late was in 2011 when boyband Blue flew the flag for the UK. Finishing a respectable 11th with 100 points, it was watched by 9.5 million viewers, a 40.4% share.
Saturday's show lost out to Simon Cowell's Britain's Got Talent on ITV, which was watched by 7.5 million viewers (34.2%), also from 8pm. This was also down on last year - by nearly as much as Eurovision - from 9.4 million (41.1%) in 2014.
Nuls points? Eurovision overnight ratings on BBC1 since 2010
2015 – 6.6m, 35.8% 
2014 – 8.8m, 41.9%
2013 – 7.7m, 35.3% 
2012 – 7.5m, 36.2%
2011 – 9.5m, 40.4%
2010 – 5.5m, 24%